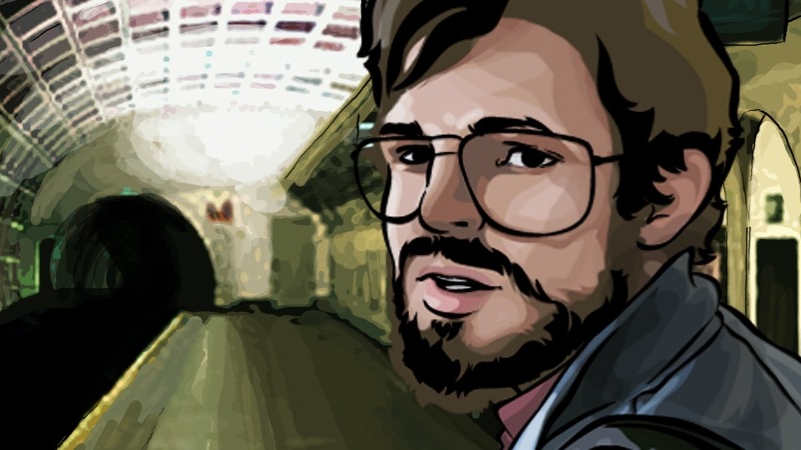 October 30, 2010
The last time I spoke with Tommy Pallotta, he was in Texas producing Richard Linklater's A Scanner Darkly, based on the 1977 Philip K. Dick novel. That was in 2006. Now he's in Amsterdam, where he recently directed a documentary for VPRO, one of several Dutch public broadcasters. Set in the near future, Collapsus: The Energy Risk Conspiracy is a fictional story about what happens when the world starts to run out of oil. (Spoiler alert: nothing pretty.) But what really bends the rules is its format—not a single video stream but a three-part window that lets you skip from interactive map to live action and animated video to interactive "news reports" from the future. It's a deep media hybrid designed to engage people in a way television does not.
Collapsus was conceived as a companion piece to Energy Risk, a conventional television documentary aired on VPRO's weekly public affairs program Tegenlicht (in English, Backlight). VPRO wanted to reach an audience that doesn't normally pay much attention to TV documentaries, which typically attract viewers in their 50s and up. So the network went to Submarine Channel, an Amsterdam-based production and distribution platform for people working in digital media, from Web videos to animated films to interactive graphic novels.
Pallotta is best known for the two films he produced for Linklater—Waking Life (2001), which won awards at the Venice Film Festival and elsewhere, and A Scanner Darkly, which starred Keanu Reeves, Winona Ryder, and Robert Downey, Jr. He also produced a machinima music video for Zero 7 and, more recently, the short feature American Prince, which premiered at SXSW in 2009. Earlier this year he co-founded YellowSubmarine, an Amsterdam-based production house. I spoke with him by email earlier this week:
How did a documentary television show morph into an interactive experience?
VPRO was looking to reach out to a younger audience and they were developing a documentary called Energy Risk. They contacted Submarine about producing an interactive documentary, and Submarine were given great creative freedom in how to execute that. Once the documentary aired, there was a short teaser and URL for the site and viewers were invited to continue the experience from the TV show to Collapsus online.
How did you first connect with Submarine?
I had always been aware of Submarine's existence since its inception 10 years ago. It is a transmedia studio that makes films, animation, and games. The films I made were really hybrids of live action and animation and after I made the first machinima music video to be played on MTV, I started working for Microsoft R&D on interactive storytelling. So Submarine's interests were really my interests, and there weren't that many people in that space at that time. It was inevitable that we would work together.
Is the documentary really dying? I thought Ken Burns had saved it.
Documentary, I think, is actually in a very vibrant state. I think it is an exciting genre to be a part of right now because it is really opening up. Especially exciting are the emergence of Web documentaries like Prison Valley that are really the initiatives of broadcasters looking to connect with a new audience.
You've created a narrative that's part fiction and part documentary. Many documentaries incorporate fictional "re-enactments" that generally look pretty cheesy. How do you feel about those?
I am very interested in looking at genres and either destroying them or mashing them together to see what happens. Collapsus is conceptual in that it is looking at how things fall apart. On one level is about how society falls apart during an energy crisis, but it is also looking at how media is falling apart and blending together. We live in a time when it is difficult to distinguish between what is real and what is entertainment. I was looking at the visual syntax of the connected age and reflecting that in the experience.
Did you learn anything from A Scanner Darkly and Waking Life that was applicable here?
After producing Waking Life and A Scanner Darkly I felt it was time to try something new. I enjoy the hybrid of live action and animation, but felt that we were peering into the uncanny valley. I started to wonder if there was a way to get the best of both worlds and started to devise a way that could blend the elements of illustration with the complexities of the human face. Collapsus is a first step to an exciting direction I plan to take even further in the future.
Collapsus posits a major oil crisis in 2012. Is it really that close? Can't we postpone it for a few more years?
The reason a major crisis happens in the near future is that it is meant to make people aware that it is possible. If it is 10 years down the line, I feel it is just too easy to ignore. Also, things fall apart very quickly. 9/11 is still very fresh on my mind because I was living in New York at the time. We saw how quickly things can change in just a few hours. Look at how fast the Berlin Wall fell, or the collapse of the financial sector in Iceland. Things can fall apart very fast. We just try not to think about it most of the time.
World Without Oil asked users to imagine a similar scenario several years ago. How is your approach different from that?
World without Oil was a great alternate reality game that was played over the course of a set time period. Collapsus deals with some of the same issues but executes in a very different way. I wanted to bring an annotated experience to storytelling. I am more interested in a fragmented narrative that mirrors our own lives instead of a highly constructed and forced narrative. One idea I wanted to explore is that of interactivity, not in the traditional sense that your actions change the outcome, but more in a way that looks at how you choose your information. In that sense it resembles a postmodern novel more than a game.
What's been the response?
The response has been fantastic and encouraging to the point that I want to expand the Collapsus universe. I would really love to jump back to television with the fictional narrative using the hybrid of live action and animation. I would also like to make a graphic novel and would like to make future episodes that could look at other collapses like water supply or economic. We just released it worldwide and are in the phase of promoting it. We are looking to partner with political and educational organizations to help drive traffic and get the word out.
What else do you have in the works?
I am currently in pre-production for a feature documentary about Somali pirates that is also a hybrid of live action and animation. It will be a very different animation style than anything I have done before. And the story of the failed state of Somalia is so complex and compelling that I can't wait for production.