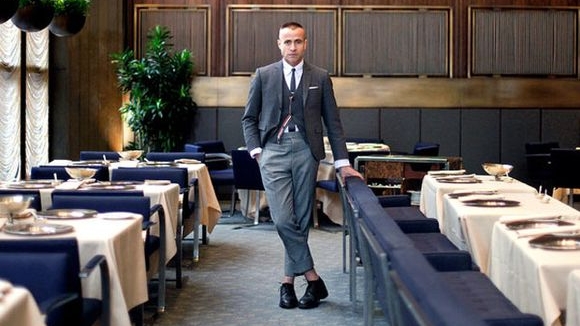 January 5, 2016
A year ago I wrote about the newly re-imagined Cooper Hewitt, the Smithsonian's design museum in New York, for Betsy Pochoda, editor of The Magazine Antiques. Cooper Hewitt set out to reinvent itself as a center for highly participatory and deeply immersive experiences, not the musty storehouse of old stuff that design museums generally seem in danger of becoming. It even has an "immersion room" where visitors can use a digital projector to see what its wallpaper samples would look like on the walls. Now it's about to mount a show called Thom Browne Selects, an "immersive environment" guest-curated by the fashion designer best known for gray flannel suits that stop well above the ankle. So when The New York Times asked me to interview him over the holidays for a piece on the show, I jumped at the chance.
What I found was more art than fashion:
Silver-plated shoes in pairs on the floor. Spectral figures, dressed in white, lying on gurneys in an operating theater. Row after row of identically clad schoolboys, standing at attention behind identical desks. For years, the fashion designer Thom Browne has treated industry insiders to presentations that look more like art installations than like a typical runway show. This March, when the exhibition "Thom Browne Selects" opens at the Cooper Hewitt, Smithsonian Design Museum on Fifth Avenue, ordinary civilians will finally get to experience Mr. Browne's theatrical sensibility firsthand.
Like other prominent designers, artists and architects who have been invited to participate in Cooper Hewitt's continuing Selects series, Mr. Browne was given the run of the museum's collection to mine for his own purposes. As a fashion designer, he might have been expected to geek out on the 27,000 textiles in the museum's collection, some dating back 2,400 years. Instead, poring over its holdings last summer, he chose mirrors and frames. So, when "Thom Browne Selects" opens on March 4, visitors will end up looking at themselves — all the more so, since the walls and floor will be covered in holographic wallpaper in a reflective silver diamond pattern. This will be quite a departure for the museum, "almost an hallucinogenic experience," said Matilda McQuaid, the deputy curatorial director at the Cooper Hewitt, who has worked closely with Mr. Browne on the exhibition.
There should be plenty to hallucinate about. According to his publicist, Browne views the Cooper Hewitt show as part three in a series that began with his Men's Fashion Week show in New York last July and continued this fall with an installation at Le Bon Marché Rive Gauche, the Paris department store (shown below). The New York presentation, dubbed "The Officeman," took place in a completely mirrored room in a Chelsea event space; the Paris exhibit ("Officeman 2") featured silver-plated shoes and a silver-plated desk—both of which will figure in the Cooper Hewitt installation—in another mirror-lined room. The Cooper Hewitt show was originally intended to appear in a mirror-lined room-within-a-room at the museum, until everyone realized how much that was going to cost. Instead, the walls and floor will be lined with reflective, holographic wallpaper that is being donated to the museum by its manufacturer, Osborne & Little.
People viewing this stuff might be forgiven for thinking Browne is kind of an order freak—as I noted in the Times, his work is all about the tension between individuality and uniformity. But what interests me more is the strong narrative thread his installations have. I first focused on this after reading a wonderful Times piece by Guy Trebay on Browne's boyfriend, Andrew Bolton, a curator at the Metropolitan Museum's Costume Institute who has been responsible for such terrific shows as Alexander McQueen: Savage Beauty and last year's China: Through the Looking Glass (and who last fall was named head curator at the institute). Guy made the point that Bolton is a storyteller at heart—and so, I realized, is Browne:
The key to that story is Mr. Browne's upbringing in Allentown, Pa. The son of lawyers who invariably reported to their offices in suits, he grew up with all the trappings of conservative Middle America. His mother even silver-plated his baby shoes — an act Mr. Browne, in his own personal "Citizen Kane," has imbued with near-Rosebud import.
Essentially, I think, Browne is staging his autobiography.