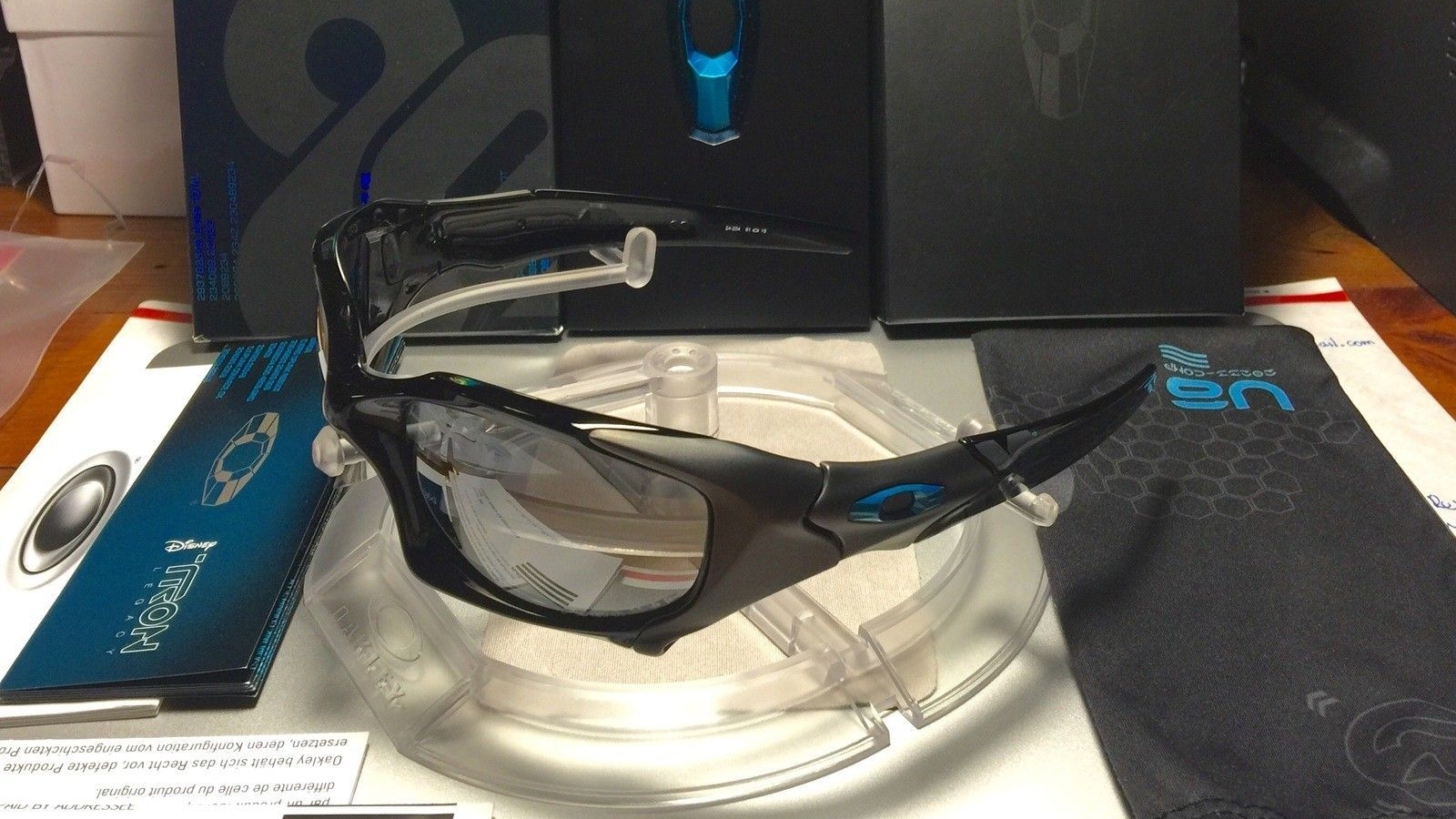 November 30, 2010
Just in case 3-D wasn't immersive enough for you already, Oakley has come up with a way to make it even more so: polarized specs with wraparound lenses that minimize the chance any pesky non-3-D imagery will get to your eyes. Two years in development, the glasses were ready just in time for the $150 limited edition TRON: Legacy tie-in that was announced in late October. Since then they've been made available in a non-TRON edition as well. Either way, the point is the same: "to create a better immersive experience," as Oakley CEO Colin Baden put it, by minimizing distortion while widening the field of vision.
The arrival of high-tech 3-D eyewear represents a milestone of sorts, both for 3-D and for TRON. For 3-D, glasses that aren't throwaways are yet another sign that the illusion has arrived, or at least that manufacturers are willing to bet on it. As for TRON, offering a pricey 3-D tie-in is a nifty way to underscore the retro-futuristic appeal of a movie that's obviously intent on making Atari-era computer graphics look hyper-cool.
I saw Baden when he flew to New York earlier this month to show off his wares. Installed in a penthouse suite at the Thompson Columbus Circle, he came equipped with a new 47-inch 3-D television screen from LG and several boxes of the TRON glasses, which are black and zippy-looking and have a few lines of decorative computer code on one arm.
Oakley ventured into 3-D at the urging of Jeffrey Katzenberg, the CEO of DreamWorks Animation. That was in 2008, the year Katzenberg announced that, starting with Monsters vs. Aliens, his company would be making all its movies in 3-D. Having committed to the extra $30 million per year that would require, the famously relentless Katzenberg started working the phones to make sure he wasn't out on a limb by himself.
"He was focusing on us as part of a luxury portfolio," said Baden, "and he was fairly animated about our entry into the zone. I said, give us a few months. It took two years." And in the meantime? "I got a lot of calls from Jeffrey."
The hard part, apparently, was figuring out how to make lenses that would curve around the head. The curvature was necessary to create a wider field of vision and to minimize backside reflection. But to bend the lenses you need to heat them, and heat degrades the polarizing filter that produces the 3-D effect. The solution was to develop a way to produce the curvature without heat–but it took awhile to figure out how.
From Oakley's point of view, the delay wasn't all that terrible; not only have 3-D theaters proliferated in the interim, but 3-D video games and television sets have arrived as well. The irony is that Oakley ended up tying its first 3-D glasses not to a DreamWorks movie but to one from Disney, the company Katzenberg was forced out of 16 years ago. (It took a nasty legal fight, but Katzenberg eventually collected a reported $250 million as his share of the profits he earned for Disney.)
Of course, 3-D glasses are hardly the only merch Disney is rolling out for its TRON reboot. Oakley is offering a hardshell backpack, not to mention a $750 pair of sunglasses. And that's just the start. There's T-shirts and jackets and hoodies from Adidas, snow boots from Burton, a whizzy-looking iPod dock from Monster, all sorts of action figures, a choose-your-own-adventure book, a graphic novel, storybooks, belt buckles, earrings, pendants, and of course the $995 motorcycle suit (available for men or women).
The obvious precedent for this kind of merchandising blitz is Star Wars, the movie franchise that not only saw characters become action figures but action figures become characters. (Call it the Boba Fett effect, after the mysterious Mandalorian bounty hunter whose popularity as a toy far outstripped the role he played in the movies.) In fact, however, movie merchandising predates George Lucas's space opera by a good four decades. As Edward Jay Epstein put it awhile back in Slate,
Disney put all the elements together back in 1937, when he made Snow White and the Seven Dwarfs…. Snow White had multiple licensable characters (the dwarves, the wicked witch) who took on long lives of their own, first as toys and later as theme-park exhibits. So, here was Hollywood's future: Its profits would come not from squeezing down the costs of producing films but from creating films with licensable properties that could generate profits in other media over long periods of time.
For Disney, then, those TRON glasses are simply the latest iteration of something they've always done. And what's behind it is not simply the realization that merch can be a license to print money; it's that T-shirts and action figures are another medium for storytelling. Give people something to take home from the theater and they'll make your story their own. That's what immersiveness is all about.