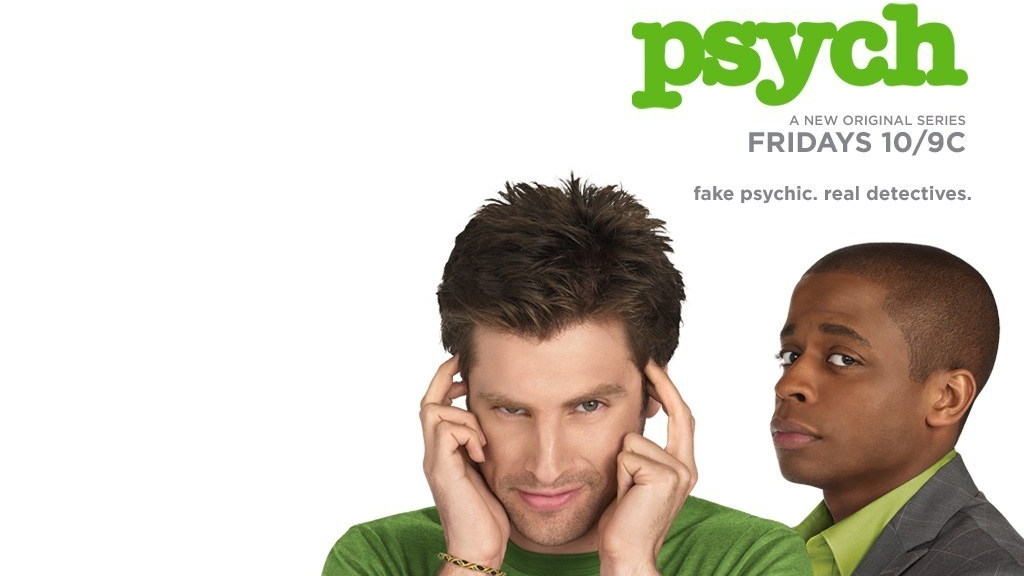 September 20, 2012
For all the buzz this year about social TV, it's mainly been about connecting fans with fans—which is nice as far as it goes, but that's not terribly far. What if you could jump the fiction-reality barrier and connect fans with characters? Then it might start to get interesting.
That's what Aaron Williams and Mat­thew Shilts figured when they started Social­Samba, a not-quite-two-year-old com­pany that works with tele­vision net­works and producers to bridge the gap, or at least blur it a bit. Social­Samba has partnered with MTV, USA Network, War­ner Bros., and others to enable fans to connect with TV and movie characters through scripted interactions.
After experimenting with a "tweetcast" for USA's Covert Affairs, SocialSamba found a winner in Hashtag Killer. Crafted for USA's hit show Psych and launched at the start of the show's sixth season last fall, it's a seven-week game that lets you work with Gus and his psychic partner Shawn to track down a serial killer. Last spring, USA's senior VP of digital, Jesse Redniss, reported that Hashtag Killer had engaged some 400,000 players (roughly one-ninth of Psych's total viewership) and created more than 80 million impressions on Facebook and Twitter.
Williams, a former SAP executive who lives in Silicon Valley, and Shilts, his Minneapolis-based CTO, were up for an Emmy for original interactive television programming for Hashtag Killer. (The Emmy, announced last Saturday with the other creative arts awards, went to Fourth Wall Studios for Dirty Work, an original series for Rides TV.) Earlier this week I put a few questions to Aaron by email.
You were nominated for an interactive Emmy. What makes Hashtag Killer stand apart from other social TV experiences?
We like to say we're focusing on the TV part of social TV, because the key differentiator that our platform offers fans is story. Fans come into the Hashtag Killer experience and immediately they join a social conversation with the characters, who talk back directly to the fan—using their name and asking them how the story should unfold. It's a little bit like a choose-your-own-adventure, remixed for the Facebook generation, with images and videos and interactive elements. We call these social experiences Sagas.
How did you come up with the idea for this? And how did you go about turning the idea into a company?
Like all good ideas, it started with some beer. My co-founder and I were relative late-comers to Facebook, and we were talking one evening over beer about how much we loved being connected to our friends and family, especially when we're far apart, but how we had to admit that our connections were pretty boring most of the time. Pictures of half-eaten lunches and political rants seemed to fill our feeds. But after a couple more beers the conversation turned to who we wished we could have as friends to get really great content—the President, or Snooki maybe . . . or why not Homer Simpson and James Bond? We looked around and were surprised to find how hard it is to tell a great story with Facebook and Twitter because of their real-time, shallow nature. So we kicked off the company in December of 2010.
How did you pitch this to television executives?
I was surprised, early on, how many executives had been thinking about telling stories through social already, and how quickly they had bumped up against the challenges of doing what they wanted with Facebook and Twitter. When we showed them how SocialSamba scripts a Saga, plays it back for each fan whenever the fan wants it, personalizes it with the characters treating the fan like a friend and calling them by name, and includes the interactive elements like a choose-your-own-adventure, I think they realized how much more could be done. We met USA Network at SXSW in March 2011, and I have to give a lot of credit to Jesse Redniss and his innovative team for their vision to use our platform, first with Covert Affairs and then with Psych. We make great software, but it's the stories that fans want.
Is the experience you create for each show custom-made, or is there a connection engine, so to speak, that can be adapted from one show to another?
It is a platform. Our Sagas are written as scripts, with all of the posts, comments, images, and videos, as well as the branches and choices, all planned out at the outset. Then our engine takes that script and creates a great experience for each fan, and the writer doesn't have to touch it after they publish it. We skin each Saga, to give them a unique branding, but the real work is in writing the script, not creating code or any engineering.
What's the production process like? How closely do you work with the show runners, the actors, and the networks?
We work closely with the shows, through our network customers. They film unique content for the Saga, and they help in marketing it too, through their social accounts. We've been very fortunate to work with shows like Psych and Teen Wolf, where the entire team is well-connected to their fans and excited about engaging them socially.
Are network execs' attitudes evolving? MTV's new tag line is "Stories without Borders," and digital GM Kristin Frank was quoted in Mashable as saying, "We're storytellers on as many platforms as possible." How prevalent is that attitude?
I think they are. MTV is certainly on the leading edge of it, but I think back to Show­time's Dexter ARG and I think we've been in an age of changing engagement for a few years. Syfy's new program Defiance is another example of pushing the envelope—one I'm really looking forward to. With successes like Hashtag Killer and Teen Wolf: The Hunt under our belt, I think SocialSamba is a leader in helping networks take advantage of the changing landscape.
Tell me about Suits Recruits, the game you put together for USA for this summer's Suits. I love the idea of fans acting as unpaid interns to help defend a law firm against a suit for unpaid wages filed by a disgruntled ex-intern.
Yeah, that was a really fun experience. It gave fans a unique look at the inner workings of the firm, with all the whispered gossip you'd expect. The team from USA Network took on a really ambi­tious idea—giving fans the chance to choose if they wanted to be a paralegal or admin and experience the Saga and the drama from different perspectives. And the fans loved it.
How big a role does gamification play? Do fans respond to points and leader boards, and or do they respond to the opportunity to connect with fictional characters?
Some do. I think the interesting thing about our platform is that we can offer a range of benefits for different fans. More casual fans may prefer just focusing on the story, and may in fact move the story more towards the dramatic storylines by how they interact with the characters. Others may want to see themselves at the top of the leader board, either against all of the fans or just against their friends.
You've also launched SagaWriter, a tool that enables fans to create stories on Facebook. How much of that involves fan fiction? How have the copyright holders responded?
SagaWriter is our free, easy-to-use tool for creating Sagas. Anyone is welcome to come into SocialSamba.com, create a Saga, publish it to their friends, and even add it as a tab to their Facebook page. We have a short intro video that does a good job of highlighting what it does. Today it is mostly being used to create parodies and fan fiction, but we have seen some original content and I think that will grow over time. We follow all DMCA rules regarding copyright, and I don't think we're alone in giving fans ways to create fan fiction—FanFiction.net is another good example. But our goal is to work with copyright holders, like we already successfully do with USA, MTV, Warner Bros., and Turner, because we want fans and networks to participate in the ecosystem together. When we get the pros and the fans co-creating, that is when everyone wins.
What's the ultimate promise, in your opinion, of social TV?
Social networks do a good job of connecting me to my favorite TV programs—I get to see their posts in my feed, and with SocialSamba I get to join the storyworld of their characters. I think the next opportunity for shows, and for fans, is to have the connection also go back in the other direction—to have the characters join my world and connect with me and my life. Today I can join a story with a super spy and help him track the terrorist and save the world. In the future, I want him to see that I checked in at LAX and ask me if I'm coming to Rio to meet him for a drink. Having shows be aware of my context, and having them be able to engage me directly in my world, is where social TV is headed.