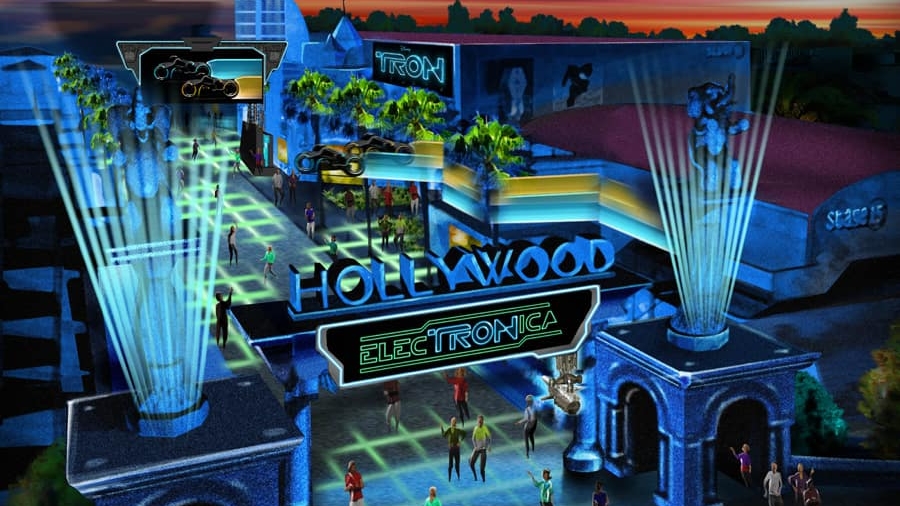 March 13, 2011
Decades before anyone thought to create an alternate reality game, Walt Disney invented the theme park. Disneyland and its successors—Walt Disney World, Universal Studios Hollywood, and their clones—were conceived as narrative architecture, purpose-built to provide an immersive entertainment experience. Nowadays, you don't need to walk through Sleeping Beauty's Castle or go on Jurassic Park: The Ride to find yourself in a real-life simulation of a fictional narrative. But the theme-park experience still appeals to plenty of people, as the lines at Disneyland attest.
Now, with ElecTRONica at Disney California Adventure, there's an alternate reality experience inside a theme park. An outgrowth of the Flynn Lives alternate reality game that played out at Comic-Con and elsewhere in the 18 months leading up to the release of TRON: Legacy, ElecTRONica is a movie transmuted into an ARG reborn as a theme-park attraction.
So, how does that work again? On Sunday afternoon at 5:00, I'll be exploring this question at SXSW with Justin Springer, coproducer of TRON: Legacy; Susan Bonds, CEO of 42 Entertainment and producer of the alternate reality game Flynn Lives; and Doug McIntyre, director of show development and production at Disneyland.
Flynn Lives—which last night became the first ARG to receive a Thea award, given out by the Themed Entertainment Association—took the sucked-inside-a-computer conceit of TRON to Comic-Con and brought it to life. So does ElecTRONica. DJs, dance crews, lasers, a re-creation of Flynn's Arcade (lots of '80s arcade games) and the End of Line Club (for programs, but now for humans too)—this is a long way from E.T. Adventure at Universal Hollywood.
Like movies themselves, conventional theme-park rides were the product of an industrial mindset—they were personal experiences stamped out by the million, day after day. This was Hollywood's idea of participatory entertainment: You'd get on a tram or a boat, bolt yourself in, and spend the next few minutes being shuttled through a building where you'd be terrorized by dinosaurs, fly into space with E.T., or whatever. There was no room for variation, and certainly no way for the audience to have any say in what happened.
Still, it was a first-hand, real-time experience, at a time when there was no other means of creating one. So it's not entirely a coincidence that 42's president spent years engineering such rides.
After an early stint at Walt Disney World and several years at Lockheed Martin's famed Skunk Works, Bonds returned to Disney as a creative director in its Imagineering group, building theme park rides like Indiana Jones Adventure, which opened in 1995. "People want to be involved in stories," she told me. "And Disneyland is about bringing stories to life."
But you could go only so far. Bonds came up against the limitations of theme park rides when she was working on the Mission: SPACE ride at Disney World. She wanted to create a ride with multiple endings because, as she put it, "the generation today wants to be able to control what happens." But how could you do multiple endings on a theme park ride and still achieve a throughput rate of 1,600 people per hour? The whole thing was frustrating. A few years later she landed at 42.
In an odd way, the new TRON and ElecTRONica close the loop on the Disney legacy. When the original TRON was released, in 1982, it seemed utterly alien to Disney and what it stood for. At the time, the company was struggling to find its place in the world; Walt had died in 1966, but "What would Walt do?" was still the mantra in the executive suite. That such a futuristic film, not to mention a computer-animated one, got made at Disney back then was a fluke of the first order. (The studio brass wasted no time getting rid of Tim Burton and John Lasseter when they surfaced on the lot in the same period.) Yet Disney himself was both a serious techie—he pushed the invention of Audio-Animatronics, for example—and a pioneer of the alternate reality experience, in the form of Sleeping Beauty's Castle and Main Street USA. It's a measure of how far Disney has come since that it would put a TRON experience at the center of Disney California Adventure.
A ScreenBurn presentation at SXSW Interactive, "The Art of Immersion:

TRON

" takes place at 5 PM Sunday in Room 12AB at the Austin Convention Center.